Reading's Top Acupuncture Clinic
We specialize in science-based, natural solutions
Five Points Acupuncture is a Reading acupuncture clinic known for our effective and compassionate care and inviting atmosphere. Acupuncturist Mark Whalen has deep knowledge of naturopathic medicine techniques and more than 13 years of experience as an acupuncturist. The Five Points Acupuncture clinic is designed to help you feel as relaxed and comfortable as possible during your appointment.
Safe and effective treatments

Natural, science-backed solutions to health problems

Offering a range of services, including Chinese herbal medicine

Treatment plans customized for your body
We specialize in solving issues such as pain, mental health, infertility, sleep problems and digestive disorders. If you have questions about Five Points Acupuncture or about whether acupuncture is right for you, please feel free to contact us for more information.
Located at 20 Pondmeadow Dr. Suite 107 (within the Reading Health Center) Reading, MA
Hours:
Monday       9:30am-12:30pm and 4-8pm
Tuesday       9:30am-12:30pm and 4-7pm
Wednesday 9:30am-12:30pm
Thursday    9:30 am-12:30pm and 4-8pm
Friday.         9:30am-12:30pm
Mark Whalen, Owner & Acupuncturist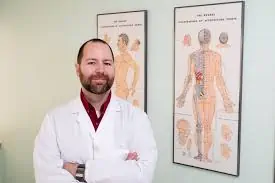 Mark Whalen is the owner and acupuncturist at Five Points Acupuncture & Wellness.  He first became interested in acupuncture while he was a patient.  Facing an unwanted surgery for a nerve entrapment, Mark turned to acupuncture and not only did it resolve his issue, it changed his life.
Mark went on to graduate from the New England School of Acupuncture in 2005 with a Masters of Acupuncture and Oriental Medicine. He is certified in Acupuncture by the Massachusetts Board of Medicine and in Herbal Medicine by the NCCAOM.
Mark believes in integrating the traditional Chinese Medical model with modern Allopathic Medicine to get the best results for his patients.
Lisa Viliott- Office Administrator
"I am better able to deal with stress, my sleep quality has improved and Mark has been able to help me with a number of issues from allergies to digestion."
"After many years of suffering with digestive issues, I found permanent relief via the acupuncture treatment Mark provides. Through treatment sessions and Chinese herbs, I am regular and do not suffer from gas and bloating. I also have more energy."
"After a few acupuncture sessions I saw signs of change in my sleep and headaches.  I am sleeping much better and for my headaches, I have not had an aspirin/Tylenol for 5 months as I write this."
"I cannot say enough good things about Mark and how professional he is. There is a gentleness about him that complements his knowledge of acupuncture and truly makes his techniques effective … If you are going through IVF, I highly recommend that you see Mark."
"I first started acupuncture with Mark to help heal a heel spur and the resulting plantar fasciitis. From the first session Mark was extremely easy to work with. Thanks to Mark, I am back on the streets jogging and improving the pain I experience week to week."
"I was recommended to see Mark Whalen at Five Points Acupuncture and Wellness by a loyal friend. I had a sharp pain in my lower back which made it difficult to walk. After five appointments with Mark, I am pain-free and walking fine."